Driving the fashion revolution
UK vertical fashion manufacturer David Nieper, has launched what it says is the country's first digital printing plant for jersey fabric and it is also driving a new fashion labelling system to inform consumers about the emissions ranking of any garment. Beth Wright interviews managing director Christopher Nieper OBE to find out more.
Managing director Christopher Nieper OBE tells Just Style the rationale behind the garment labelling system is to encourage more responsible purchasing and incentivise the sector to compete for the most sustainable supply chains.
The rationale behind what Nieper describes as an "at a glance 'eco credential' kitemark" is if consumers knew the environmental footprint of their garments at the point of purchase, it would help them to make more planet-friendly choices.
His suggestion is to form an advisory group that is both geographically diverse and representative of the wider UK fashion and textile industry. This may include weaving, printing and dyeing, knitwear, footwear, fashion, trade bodies and academia.
Fashion is one of the worst polluters when it comes to climate change, Nieper explains during Just Style's visit to the company's manufacturing site in Alfreton, Derbyshire.
"Retailers and supply chains should realise their consumers are aware of all this and there's an opportunity to get the cleanest and greenest supply chain possible because you'll steal a march if you do that," he says.
In its heyday, UK-based manufacturers were responsible for the majority of clothing sold in the country. Today, most firms have their production overseas, which means almost all fashion purchased in the UK is imported.
An advisory group would be tasked with creating a scientific model to measure and categorise a garment's carbon footprint.
Ignoring the consequences of carbon emissions has led to long-distance supply chains and production in countries with very low levels of sustainable energy. Indeed, it's not unusual for cotton growing, dyeing, and sewing to be on different continents before being transported thousands of miles around the globe to market.
Manufacturing in the UK would dramatically shorten supply chains and benefit from the UK's high proportion of sustainable electrical energy in its national grid, Nieper claims.
Without consumer informed choice, however, there is little incentive for the sector to pursue a low carbon supply chain.
David Nieper wants to empower consumers to "vote with their credit cards" when they can see at a glance the emissions ranking of any garment they would like to buy.
An advisory group would be tasked with creating a scientific model to measure and categorise a garment's carbon footprint which would, in turn, be translated into a meaningful rating for consumers to understand the eco credentials of their purchase –similar to food labelling and white goods.
To communicate the ranking to consumers, garments would each have a label or swing tag, with the kitemark displayed alongside the image both online and in the company's shopping catalogues.
Initially, David Nieper says the initiative would be a voluntary scheme, however, the government could incentivise adoption to help achieve net-zero targets.
Digital printing
Work to create a labelling system comes after a GBP4.5m (US$6m) investment in a digital printing plant that became operative in March and is now producing two-thirds of all David Nieper fabrics.
It also houses a compactor – thought to be the only one of its kind in the UK – to accurately finish jersey cotton, as well as a dyeing machine.
The investment adds to the company's vertical operations which see all of its clothing being made from the first sketch to final stitch in its Derbyshire facilities. It also photographs its collections, operates its own cutting facility, and prints its own mail-order catalogues.
In addition to benefits such as exclusivity and reducing time to market, the investment allows the company to reduce waste by avoiding minimum print runs. It also gives David Nieper complete control over its carbon footprint.
"By printing digitally instead of in a conventional way, we use no water at all in the print process," Nieper explains.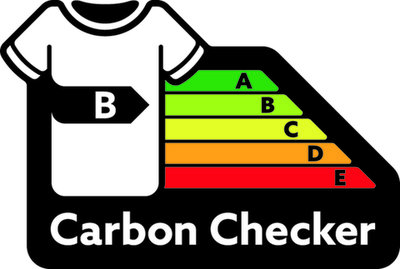 Path to circular energy
Running at 70 hours a week, the plant produces what Nieper refers to as the "bread and butter of fabrics." It is solar-powered with 670 square metres of solar panels on its roof – enough to power it almost entirely while the sun is out.
The company is also working on a heat recovery installation, which uses solar energy to create heat. Nieper explains that while it's very expensive to store electricity in batteries, it is possible to store the energy from the solar panels as heat in water.
"We take the electricity off the roof and use it to run air source heat pumps which heat the water up and then you store the hot water," he explains, adding this means the facility could, theoretically, run overnight from stored energy.
Circular energy is the ultimate aim for Nieper and his team, which will see solar energy stored from the weekend converted into heat or hot water in time for Monday morning. This can be used to wash fabrics, run the steamer and compactor and, in turn, recover heat.
"As we run the water into the washer, the water gets dirty so instead of running dirty hot water down the drain, you pass it over a heat exchanger to get the heat out of that dirty water to heat the clean water coming in."
The idea is that cold, waste water goes out of the factory and the heat stays in the building.
He adds: "You can preheat the cold water coming in and top up the heat with the air source heat pumps, which come from solar energy."