Trailblazers have launched new technologies that can be applied to clothing to halt viral activity, alongside various sanitising treatments to disinfect footwear and apparel.
Brazilian denim fabric maker Santista Textil is the latest to join a long list of manufacturers and brands including denim label Diesel preparing to do battle against the virus.
Santista is working on a new treatment to protect workwear, denim and other clothing from SARS-CoV-2, the strain that causes the novel coronavirus. While Diesel will launch a number of new styles using the ViralOff treatment from Sweden's Polygiene, which is said to physically halt 99% of any viral activity.
Even machinery makers are getting in on the act. Jeanologia, Tonello and Püre have all launched technologies that can sanitise and disinfect garments and accessories during production and in the retail store.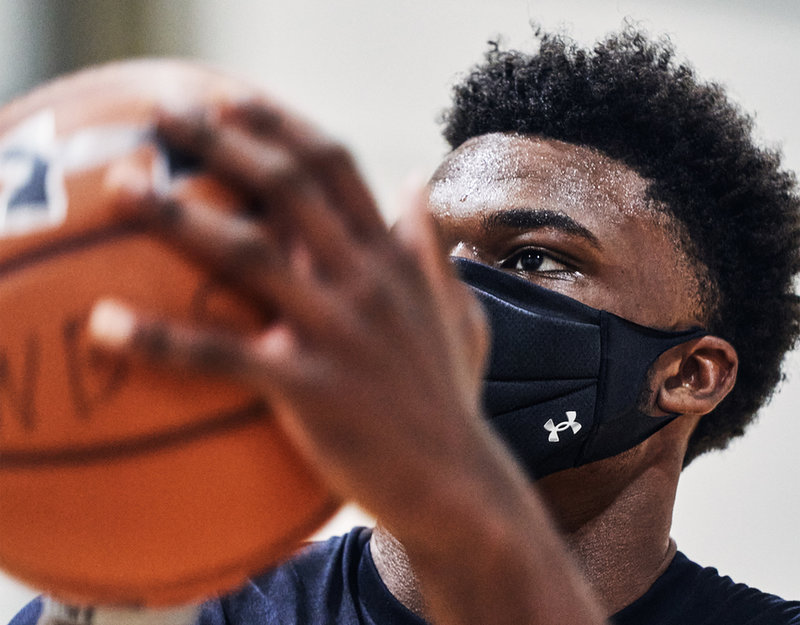 The UA Sportsmask from Under Armour
Multi-billion dollar market
The American Apparel & Footwear Association (AAFA) is working to calculate how many face masks Americans may end up purchasing this year and beyond. A back-of-the-envelope estimate could put the initial number at $3.3bn if at least half of the US's 330 million inhabitants buy a mask at least twice, based on a $10 price tag.
"We are still making assessments about how many face masks people will need to wear during a week [for example], how many will be disposable and how many reusable," says Steve Lamar, president and CEO.
"Face masks will likely become an integral part of American wardrobes for the medium-term – and even long-term."
"We see a significant market for the foreseeable 12 months." He believes "high single digit growth" is a conservative assessment for the burgeoning market by 2022 – the time horizon when sales could plateau if vaccines become widely available.
AAFA, which has launched a face mask standard guide, says Americans must do a better job at "living smartly with the virus," amid soaring cases. That involves wearing masks and possibly virus-shielding garments. Face masks, at least, will likely become an integral part of American wardrobes for the medium-term – and even long-term – if a new coronavirus emerges.
"There is more about this virus we don't know than we do, so it's hard to predict what the [protective wear] need will be," Lamar adds.
America's top brands including Gap, Hanes and Fruit of the Loom have joined manufacturers such as Cone Denim and Burlington in a scramble to mobilise their production facilities and supply chains to make basic and increasingly sophisticated face masks to avert losses in the US's $400bn textiles and apparel market.
But the effort doesn't stop there. Keen to push the innovation wagon, sportswear and other performance brands such as Under Armour are also jumping into the space before rivals do.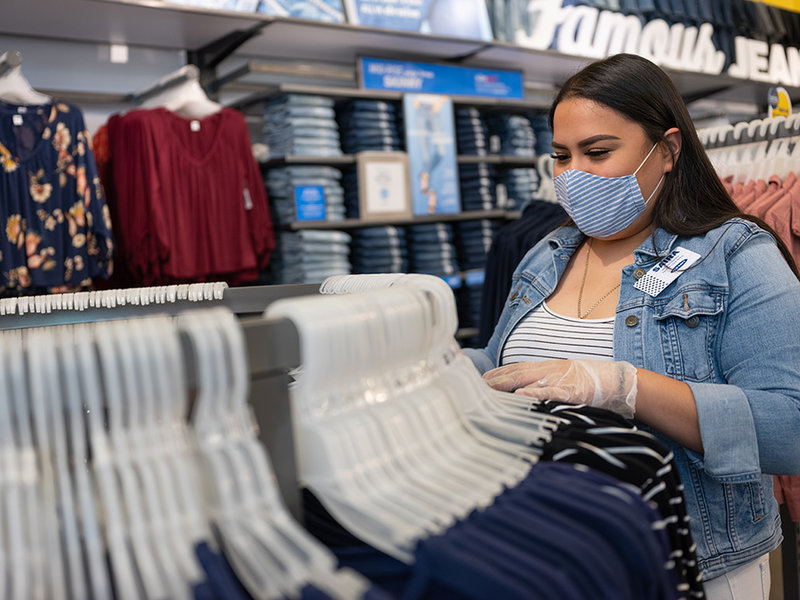 Gap Inc's Old Navy chain has mobilised its supply chain to make face masks
New clothing categories
To help them, some suppliers are testing anti-Covid leggings and other apparel for global brands and could eventually push the technology to new clothing categories.
"We are doing testing trials right now, using a proprietary anti-bacterial sanitised finish," a top executive at one of the apparel makers tells just-style magazine, requesting anonymity because the negotiations are confidential. He adds that 50 women are currently testing the leggings for up to 50 washes.
If lab tests succeed, the manufacturer could produce other garments for a large brand. "We are trying to figure out if this will make sense for their other tops and bottoms." An eventual expansion into other product categories will also depend on future demand.
Brands are stepping on each others' toes to make virus-shielding apparel as the market could mean billions in sales for those who establish a first-mover advantage.
"All brands look to improve fabric performance for athletes and otherwise, and this is an improvement," adds the executive. "With Covid-19 coming into play, we have all become more aware of the amount of germs you can contact. Even if we find a vaccine, people are much more open to the pluses of having greater hygiene and performance, of garments that deflect any kind of bacteria, than they were six months ago."
"Everyone will stock it."
Ilse Metchek, president of the California Fashion Association, expects antiviral garments to stick around for some time and, depending on whether and when the virus is defeated, eventually becoming a niche product.
"Every city in the US will have a warehouse filled with a just-in-case scenario and this will probably go on for years," she says, noting that nursing homes, diverse care centres and doctors' surgeries "will probably keep a supply" in case other coronavirus mutations erupt in future. "We don't, as a country, want to be in this position again."
Metchek adds virus-shielding apparel will also likely find a niche in industrial workwear and/or the military. Despite celebrities and fashionistas wearing face shields as style statements, she doesn't see protective garments becoming highly fashionable.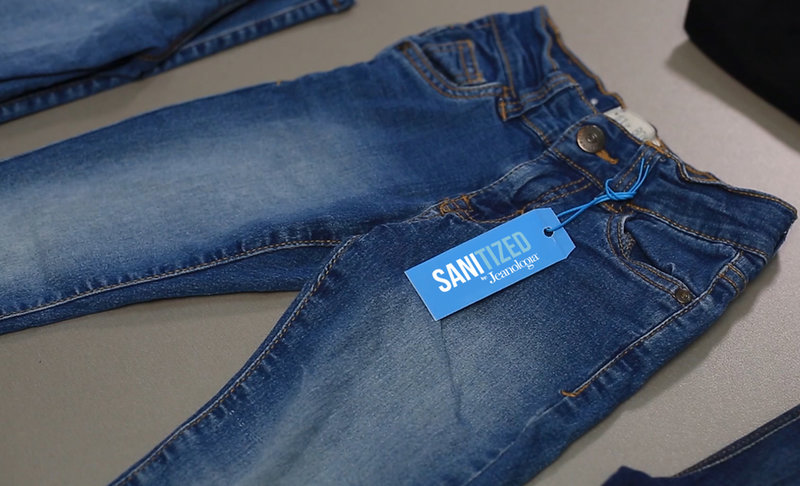 Jeanologia's Sanibox disinfects garments in a fast and safe way
More diverse fashion applications
Others see more diverse fashion applications including Ketty Pillet, vice president of marketing at Gerber Technology, which set up a dedicated task force to help manufacturers convert their production to personal protective equipment (PPE).
"There are garments being developed that act as scarves and then turn into masks or shirts that include necklines that become masks," she says. "Brands are trying to match masks with their fashion collections."
Pillet envisages the trend having staying power in the travel industry, especially for long flights where people are scared of catching the illness in a compressed, crowded space.
"I have to fly in two weeks and I am looking at what I can find," she says. "I don't feel comfortable wearing my own clothes and I don't want them to sit in my hotel afterward. I want a jumpsuit or something that I can deep clean afterward. I see this type of clothing having more lasting appeal [post-vaccine era], especially for flying as it can take long hours and you are not sure what to wear to be safe."
Headline image: Lacrosse midfielder Taylor Cummings in the UA Sportsmask