The reality of rebalancing supply chains
Even before the life-changing event that is Covid-19, there was a real buzz around moving production out of China – with many US brands mulling a shift closer to home amid rising concerns around trade wars and forced labour. But where are they at with those thoughts now? asks Hannah Abdulla
1: Near-shoring would create more flexibility and help minimise supply chain disruption
When the coronavirus crisis forced China to shut down early in the year, factories across the world were denied access to raw materials, meaning garments couldn't be made and orders couldn't be fulfilled. Brands also cancelled millions of dollars worth of orders in response to store closures and national lockdowns. Having a production site closer to home would create much-needed flexibility, allowing brands to order smaller amounts since goods arrive faster.
2: China sourcing costs are rising
The US trade war against China has increased the cost of sourcing from the country, as have higher wages. Of the top five sourcing countries in Asia – Vietnam, Bangladesh, Indonesia, India and Cambodia – at least half have wages that are about 60% less than China pays its workforces.
3: A fresh look at duty-saving locations
Rising sourcing costs in countries like China could spur utilisation of US free trade agreements (FTAs) and trade preference programmes, particularly those with countries in the Western Hemisphere, such as Dominican Republic-Central America Free Trade Agreement (CAFTA-DR), CBTPA and Haiti (HOPE, HOPEII or HELP).
Another option is to leverage the benefits of the new US-Mexico-Canada Agreement (USMCA), saving on transport costs, and boosting speed-to-market capabilities should more production shift production to Mexico. Half-year trade data from the US Office of Textiles and Apparel revealed the average unit price of US apparel imports from Mexico fell by 16% between January and June to US$3.16.
4: Green is the new black
Sourcing from near-shore locations like Honduras, Guatemala and El Salvador or Mexico also involves a shorter shipping distance, meaning a lower carbon footprint.
5: China ethical concerns come to the fore
Mounting concerns over the prevalence of forced labour in China are also prompting fashion firms to reconsider it as a major sourcing base. Allegations of forced labour centre on the Xinjiang Uyghur Autonomous Region (XUAR), where around 80% of China's cotton is produced – much of which makes its way into global supply chains. The US is considering a blanket ban on cotton products from the Xinjiang region.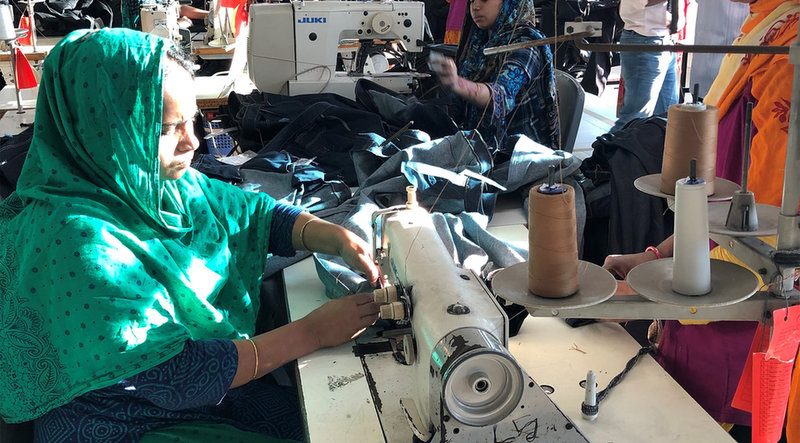 6: Is re-shoring production actually happening?
The US and the EU remain the world's two largest textile importers, including finished textile products as well as highly specialised technical textiles. This suggests that re-shoring – making apparel locally rather than sourcing from overseas – has not become a mainstream industry practice in developed economies like the US and the EU.
7: How about near-shoring?
According to US trade statistics, in the first nine months of 2020, just 9.1% of apparel imports came from CAFTA-DR countries (down from 10.3% in 2019) and 4.4% from USMCA countries (down from 4.5% in 2019). This is due to several factors, including bad timing with Covid, and mismatched competitiveness. While near-sourcing helps with speed to market, it suffers a disadvantage for sourcing cost.
8: Is China's popularity as the go-to for clothing really waning?
US trade data shows China's apparel shipment volumes have risen steadily since March, reaching 1.04bn square metres (MM2) in September. China consistently remains by far the largest US clothing supplier, with imports three times as high as nearest rival Vietnam, and the same as the remaining nine largest supplier countries combined.
Crucially, China is a jack-of-all-trades. Each of the top 10 major sourcing partners for the US dominates in a certain category: for Cambodia, it's footwear; for Bangladesh and Turkey, it's denim; and for near-sourcing hotspots like Central America, it's cotton and synthetic knit shirts. So one of the key things brands must consider when shifting production is the penetration rate in the categories they source.
9: Will re-shoring ever be realised?
Moving forward, brands won't want their supply chains exposed to the numerous problems revealed by the Covid-19 crisis. The supply chain will need to be shorter, closer, and more nimble. If all production is in China or Vietnam, a brand is 100% exposed to any risks. "Near-sourcing will continue to grow in popularity; however, most likely, it will remain a part of a fashion companies' overall sourcing portfolio," says Dr Sheng Lu, associate professor of fashion and apparel studies at the University of Delaware. Re-shoring? Certainly not any time soon. Barriers to re-shoring include high price, limitations in fabric options, and a shortage of skilled labour.
10. Asia will remain a sourcing powerhouse for some time to come
China will remain the dominant textile and apparel supplier to the US market in the near future. Considering speed-to-market, sourcing cost, flexibility and agility, and compliance risk, it is one of the few "balanced" sourcing destinations that US fashion companies can choose from. China will also continue to play a critical role as a textile supplier to many apparel exporting countries in Asia.
But supply chain diversification is going to be a massive feature of many brands' future agendas. Between 2015 and 2019, clothing labelled 'Made in China' lost market share in the US – falling to 37.4% from 30.8%. The favourite sourcing strategy today is China + Vietnam + many.