Clothing has consistently been one of the biggest categories on Alibaba's retail marketplaces in China, but merchants were struggling to keep up with customers' ever-changing needs.
While it can take many months for apparel companies to move from concept to stores – a new generation of digitally savvy consumers wants new and personalised products with the ability to "see now, buy now."
Along with long production lead times, smaller brands and retailers in particular face additional challenges like over-stocking and minimum order quantities.
Alibaba has been working on a solution for the past three years. The Xunxi Digital Factory unveiled in September is one of 10 facilities hailed by the World Economic Forum's Global Lighthouse Network for their ground-breaking innovations in manufacturing.
Based in the group's hometown of Hangzhou, the Xunxi factory aims to "create a user-centric approach to production by leveraging various digital solutions" including cloud computing, IoT (Internet of Things) technologies and AI (Artificial Intelligence) algorithms.
Essentially, what this means is that the huge amounts of data generated by consumer insights and real-time market trends across the Alibaba e-commerce platforms will help the shift from a traditional "made-to-stock" manufacturing model to "made-to-sell" production.
Fundamental change
"When we started our digital factory initiative, the whole driving force was about consumption change," explains Alibaba Group chairman and CEO Daniel Zhang. "The pandemic changed the whole world, and we believe this will fundamentally change the way people live.
"We believe that in the future, large-scale standard production will be transformed into very flexible small-scale production. But when we look at the existing supply in the apparel industry, it's all about large scale, it's very standard products on a seasonal basis.
"How do we upgrade supply to meet the quick-changing demands of customers? And most importantly, how can we share the insights into customer behaviours on a digital platform and create new products fitting to the customer needs? That's the starting point of our new project."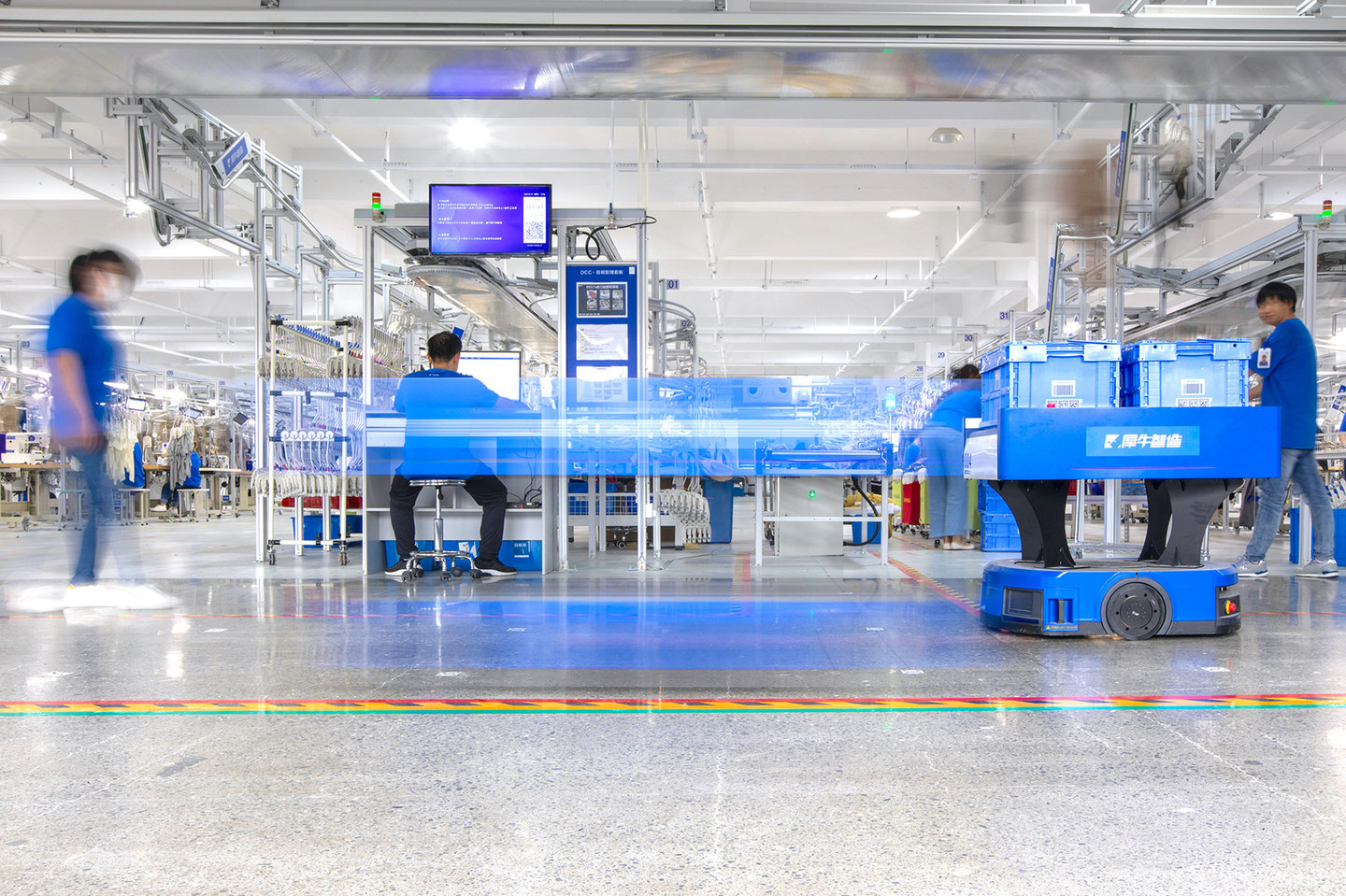 Smart production
Advanced technologies are at the heart of streamlining the production process.
An AI-driven online planning system helps with scheduling and adjusting workflows to ensure maximum efficiency. For example, items from the same materials to be processed together, even if they come from different orders. Not only does this increase production efficiency, but it also reduces fabric waste.
Production equipment is also bolstered by Alibaba technology, from AI cutting machines to IOT enabled sewing systems. The status of the production line is entirely visible to every operator, with work tracked digitally and sent to the next station via an overhead conveyor.
The whole production process is planned and managed in Xunxi's digital system, so managers can monitor workflows easily and remotely on their computers or even through their mobile phones.
By processing real-time feeds gathered from thousands of IoT touchpoints across the manufacturing floor, the system can alert staff and operators of any issues that arise so that they can be solved on the spot.
These digital capabilities also offer a more efficient and sustainable approach to manufacturing, the company says, with AI algorithms in washing machines cutting water consumption by 50% across the whole production process.
Fast-tracking
Results so far suggest the Xunxi factory is able to increase manufacturing efficiency from 25% to an average of 55%. Overheads have also been reduced by 43% and the need to hold inventory by 30%.
Order lead-times are 75% shorter, and its flexible infrastructure means minimum order quantities can be reduced to 100 pieces – a huge advantage for micro, small and medium-sized businesses, as well as allowing for more customised products to be made.
The factory has initially collaborated with merchants on the Taobao and Tmall platforms, helping manufacture their ranges and test sample products to gauge their popularity with consumers.
"Data is the core of new manufacturing, and harnessing data insights is key to capturing new opportunities in the shift in consumer preference for personalised rather than mass-produced goods," adds Alain Wu, CEO of Xunxi Digital Technology Company.