Even before the coronavirus pandemic, the relationship between brands and factories was changing, according to David Klein, president and co-founder of US-based Inspectorio, which develops technology solutions for quality inspections and facility assessments.
The "costly and inefficient" control and policing approach of the past has increasingly been replaced by "empowerment, accountability and transparency," with the restrictions that have arisen due to Covid-19 set to significantly accelerate this pre-existing trend.
Kris Harding, Hong Kong-based global sales manager for Tüv Süd, which provides technical services in testing, certification, verification and knowledge transfer, notes many suppliers "can easily self-assess with little or no oversight, as they already have these expectations and requirements, with the key fundamentals in place internally throughout their own supply chain."
He adds that brands are likely to "move towards a risk-based approach on quality governance. For example, orders such as socks or hosiery with a low-level risk can be self-inspected based on product or supplier historic performance."
Klein asserts that beyond product inspection, the empowering of suppliers can also be applied to manufacturing facility compliance, utilising technologies such as mobile and cloud collaborative platforms.
"In the audit space, the deployment of technologies for remote engagement is not sufficiently sophisticated to provide for effective interventions" - Randy Rankin, Eurofins
These include Inspectorio's Rise platform, which is designed to allow organisations to verify audit data and create custom assessments and corrective action plans. It also allows factories to showcase the results of audits conducted at their facilities by third parties so they can choose to avoid duplicating that audit with clients.
Klein adds such solutions can help overcome challenges caused by Covid-19 such as mobility restrictions. However, since brands will often need to rely on self-assessment data from their suppliers and factories, they should also adopt tools to make that data more reliable. These include solutions allowing users to take videos; provide time-stamps and change logs; allowing only specific, authorised users to enter the data; remote monitoring of the audit process as it takes place in real-time; and geo-tracking to ensure the audits take place in the correct locations.
Justin Bettey, director of supply chain assurance at Intertek, predicts greater use of Inview, its remote auditing solution, which works via video and audio links to the factory. "With the ability to align Inview with other remote services such as worker surveys, cloud based SAQs [self-assessment questionnaires] and training we have seen that the majority of our clients are still able to maintain business dialogue with their suppliers and maintain visibility of responsible sourcing expectations."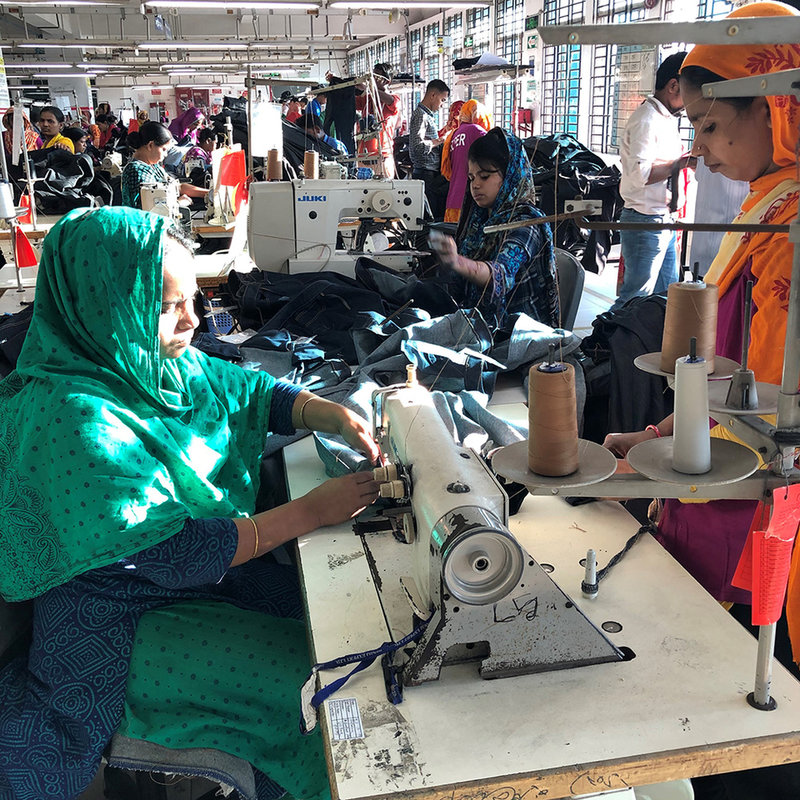 Remote limitations
Nevertheless, there are limitations to how much can be achieved remotely.
Randy Rankin, global client development director in the Consumer Products Testing Assurance Services practice at Eurofins, notes that in product inspection, brands are seeking the demonstration of effective inspection systems from suppliers, through a mix of in-house inspection training and video and remote engagement. This results in fewer final inspections and more supplier-performed inspections.
However, "in the audit space, the deployment of technologies for remote engagement is not sufficiently sophisticated to provide for effective interventions." While tools such as video streaming can observe conditions, it "does not effectively create a mechanism for either worker engagement or consideration of the underlying processes that create the noted conditions."
"In the audit space, the deployment of technologies for remote engagement is not sufficiently sophisticated to provide for effective interventionsRandy Rankin, Eurofins" - Randy Rankin, Eurofins
Klein, too, acknowledges that inspections of products and facilities are fundamentally different. However, the continuous development of technology makes cheating increasingly difficult.
"You can't, for example, bribe a technology company to get them to change the geo-location from where you're completing an assessment." He predicts that in the future, companies will also "leverage AI (artificial intelligence) to spot dubious data, integrating with devices that automatically report on air, water and waste disposal metrics.
He also notes some organisations are considering integrations with thermometers that take employees' temperatures before entering factories, so brands can be automatically alerted if a factory in their supply chain may have cases of Covid-19.
Audit fatigue
Avedis Seferian, president and CEO of WRAP (Worldwide Responsible Accredited Production), suggests that now is also a chance to address audit fatigue, a problem that has persisted over the past decade largely due to many brands insisting on conducting their own audits at their vendor facilities.
"As those brands have struggled with maintaining their due diligence programmes during this crisis, many have had to turn to each other and also utilise independent programmes that they might not have otherwise looked to for vendor compliance validation," he says, advising that the use of such programmes should "become a permanent feature."
However, a "lesson from this crisis should be that a single standard/code/programme cannot be a one-stop solution for all-comers."
Instead, in order to effectively reduce the number of audits, the industry must adopt "a pool of specialised programmes, each one maximising their contribution by concentrating on a specific industry and/or area of expertise...with actors within that supply chain then able to pick whichever one of those solutions works best for their set of circumstances."