The plight of the global garment industry has prompted several calls for action to try to help manufacturers survive the disruption caused by the Covid-19 pandemic and protect workers' income, health and employment.
Garment factories around the world have shut down at an alarming rate as retailers have closed shops and cancelled orders. These closures and resulting job losses are hurting millions of workers who are already amongst the most vulnerable due to low wages and poor labour conditions – with countries such as Vietnam, Cambodia, Bangladesh and Myanmar particularly hard-hit.
One initiative is 'Covid-19: Action in the Global Garment Industry,' which has seen apparel brands and retailers – including Adidas, C&A, H&M Group, Inditex, M&S and Primark – join employer organisations, unions and the International Labour Organization (ILO) to push for emergency funding to support factories and workers through the crisis.
In another move, 66 textile, apparel, footwear and travel goods trade associations are calling for governments to address the liquidity squeeze caused by Covid-19 across the supply chain.
And a coalition of labour rights groups representing around 2,000 apparel brands and retailers has separately set out its priorities to protect garment workers – including safeguarding worker income and health, and future-proofing supply chains.
A survey of 500 apparel suppliers in major apparel manufacturing countries by Boston Consulting Group found 86% of manufacturers have experienced cancelled or suspended orders and 40% are struggling to pay employees due to Covid-19.
The European Union is taking action, after pledging EUR334m (US$371m) to help the government of Bangladesh, including cash assistance for export workers. While those in Myanmar have received the first MMK1.04bn (US$753,512) in payments through the EU's 'Rapid Response' support fund.
Brands urged to make supply chain relief payment
A one-off payment from fashion brands and retailers could be a way of mitigating the impact of the ongoing Covid-19 crisis on supply chain workers.
The proposal from the Asia Floor Wage Alliance, which works to improve conditions in global garment production networks, suggests a contribution of 2% of their past annual sourcing budget.
This, it says in a report 'The Emperor Has No Clothes: Garment supply chains in the time of pandemic,' would help make up for the loss of income due to order cancellations and factory closures linked with the coronavirus pandemic.
The short-term, one-time Supply-chain Relief Contribution (SRC) would be passed to suppliers and be payable directly to each worker.
"If brands honour this contribution for their supplier factories, each worker would get a modest but important contribution to help them mitigate the most extreme effects of the Covid-19 crisis."
In the medium to long term, the Asian labour and social alliance says brands should step forward and commit to a fair price or a premium that ensures payment of a living wage and social security, and safeguard freedom of association.
Retailers named and shamed for axing order payments
While some apparel and footwear retailers have taken steps to act responsibly to their suppliers during the crisis, the online 'Covid-19 Brand Tracker' names and shames those who have refused to pay for their orders.
The resource has been created by the Worker Rights Consortium (WRC) in association with Penn State's Center for Global Workers' Rights (CGWR). At the end of May, the list of companies that had made no commitment to pay in full for orders completed and in production includes Arcadia (Topshop), Bestseller, C&A, Edinburgh Woolen Mill (Bonmarché, Peacocks), Gap (Old Navy, Athleta, Banana Republic), JCPenney, Kohl's, Li & Fung/Global Brands Group, Mothercare, Primark, Sears, The Children's Place, and Urban Outfitters (Anthropologie).
The research also criticises Ross Stores for reneging on its commitments to factories; Bestseller for imposing partial order cancellations and retroactive price cuts across its supply chain; Walmart subsidiary Asda for "abandoning suppliers" of its George fashion range; and Primark for failing to honour its obligations in full.
But Asos, LPP, Lululemon Athletica, Next, Tesco, Under Armour and VF Corp (JanSport, The North Face, Vans, Timberland) have committed to pay in full for their orders. They join Adidas, H&M, Inditex (Zara), Kiabi, Marks & Spencer, Nike, PVH (Calvin Klein, Tommy Hilfiger), Target and Uniqlo who were among the first to make the same pledge.
Global fashion industry should slow down and reset
The British Fashion Council (BFC) and the Council of Fashion Designers of America (CFDA) say the pandemic provides an opportunity for the sector to reset, slow down and rethink the way it operates.
"The fashion system must change, and it must happen at every level," they explain in a joint statement. "There is a clear disconnect from when things arrive in-store to when the customer actually needs them. The delivery cadence should shift closer to the season for which it is intended."
Suggestions are for designers to focus on no more than two main collections a year, and to reduce the amount of merchandise produced. They also recommend that pre-collections return to showrooms instead of dedicated catwalk shows, and that brands slot into the regular fashion calendar and in one of the global fashion capitals to cut travel for buyers and journalists.
The upside of creating less product, with higher levels of creativity and quality, means items will be more appreciated and their shelf life will increase.
Luxury label Gucci is the first major brand to opt out, moving from the traditional fashion catwalk calendar and cutting its shows from five to two per year. This is likely to pave the way for others to follow suit and signifies the start of major change.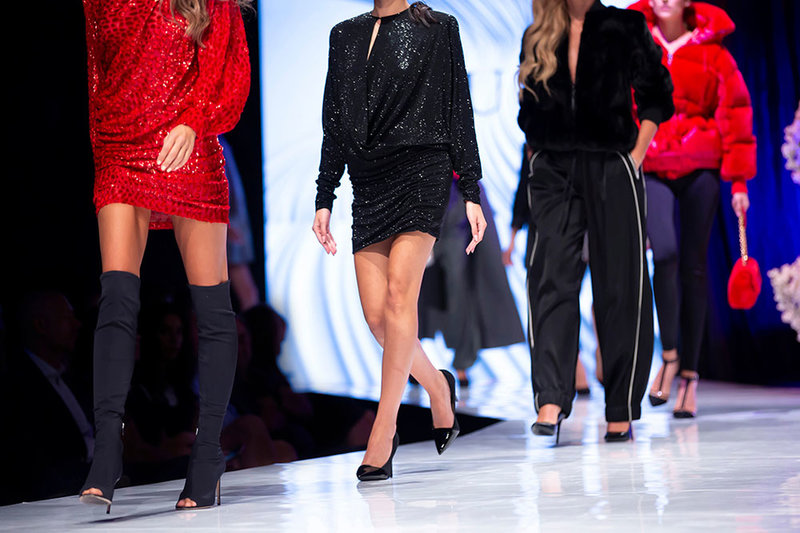 Lost Stock sells cancelled Bangladesh clothing orders
A novel solution to the thousands of tonnes of clothing from cancelled orders piling up in Bangladesh is to sell mystery boxes of items direct to consumers in the UK.
Under the Lost Stock scheme, garments from a range of high-street brands are being sold direct from manufacturers in Bangladesh for half the normal retail price.
Created by online clothing retailer Mallzee, consumers can purchase a GBP35 (US$43) box of women's or menswear after answering a few questions about their size and taste in clothes. Lost Stock will select tops, T-shirts and shirts that would have been stocked by high street brands, and would otherwise be headed for landfill.
"Covid-19 has had a massive impact on the supply chain in the retail industry," Mallzee says on the Lost Stock website. "Over $2bn worth of clothes orders have been cancelled in developing countries, with no payment being made to manufacturers. This means that workers aren't getting paid either. In Bangladesh, the garment industry accounts for 84% of the country's exports, with 2.28 million workers affected. This huge disruption in the supply chain is the reason we want to help."
Each box supports a worker and their family for a week and the goal is to help support 50,000 workers by the end of 2020.
UN wants stimulus measures to align with climate action
More than 150 companies including H&M, Burberry and Inditex have backed a United Nations (UN) statement urging governments to align their Covid-19 economic stimulus packages with the latest climate science.
The companies, with a combined market capitalisation of over US$2.4 trillion and representing over 5m employees, want policies to build resilience against future shocks by supporting efforts to hold global temperature rise to within 1.5°C above pre-industrial levels, in line with reaching net-zero emissions well before 2050.
"We can beat the virus, address climate change and create new jobs through actions that move us from the grey to green economy," says UN secretary-general António Guterres.
"We have the chance to truly reconstruct a better future, and while doing it, we need to ensure that the recovery measures taken today are not at the cost of our planet," says H&M Group CEO, Helena Hemersson. "It is now more important than ever that companies and governments show leadership standing by their commitments in climate action, and that we take responsibility together."
Risk of Turkmenistan tainted cotton in Turkish textiles
Clothing brands that source from Turkey are being urged to pay close attention to where the cotton used in their products has come from. Research suggests mills in the country are heavily reliant on cotton from Turkmenistan, which is often produced using forced labour.
Anti-Slavery International, the Responsible Sourcing Network and Turkmen News say cotton picked in Turkmenistan's cotton fields makes its way through the supply chain and into finished products available globally.
"Turkmenistan is not on a lot of brand's radars because it is a small country," says Patricia Jurewicz, founder and VP of the Responsible Sourcing Network, which is the co-founder of the Cotton Campaign worker rights group.
"We cannot at this point say we are comfortable that any cotton produced in Turkmenistan is produced without forced labour. Because so much of its cotton product is going into Turkey, there is a lot of exposure for international brands due to the production which is happening in Turkey."