Vidalia Mills – Weaving a new vision for US denim
The closure of the last US selvedge denim mill two years ago might have marked the end of an era. But the original looms have now found a new home at Vidalia Mills as part of plans to build a cutting-edge, transparent and sustainable denim manufacturing chain in the United States. Leonie Barrie pays a visit
"Denim is the American fabric and we think it's time to make selvedge denim in the United States again," Vidalia Mills CEO Daniel Feibus told an invited group of brands, retailers, executives and stakeholders during a tour of the facility taking shape in Louisiana.
"We're very confident of our ability to be one of the two or three select selvedge weavers in the world."
Delivering on this goal is possible after the business acquired all 46 of the 1940s vintage American Draper X3 shuttle looms from the now defunct Cone Denim White Oak facility in Greensboro, North Carolina. The looms produce vintage selvage denim not available anywhere else in the world, and are currently being relocated to the new Vidalia Mills facility – along with the mechanics and engineers who keep the equipment in running order.
But it's not just selvedge denim that will give Vidalia Mills its edge. Based out of a 900,000 square foot former Fruit of the Loom distribution facility in the heart of the cotton-producing region of the Mississippi Delta, the new $50m denim mill will be the first to open in the US in almost a century.
"It's time to change what the denim industry means to the consumer, and not just with a gimmick but with a real traceable, transparent manufacturing chain" – Dan Feibus
And once full commercial production takes shape next year it will offer a complete 'Made in the USA' vertically integrated package of yarns and fabrics that includes yarn preparation, spinning, weaving, and potentially cut-and-sew and laundry facilities as well.

Likening the mill to "a craft brewer in terms of size," Feibus explains it will have the flexibility to produce smaller, high quality fabric lots for high-end premium jeans brands.
Elevating sustainability
But there's also the ambition to set a new standard for sustainability and transparency in the North America denim industry – and offset the negative environmental impact of traditional denim processing.
"As the denim industry grows, we're facing more and more challenges from consumers demanding real transparency, real efficiency in water usage, real accountability on cotton, and to make a real case as to why denim should be in people's wardrobes as a sustainable fabric that people want to enjoy wearing long into the future," Feibus explains.
"Fabrics come and fabrics go, and at some point denim's going to have to justify why it makes sense."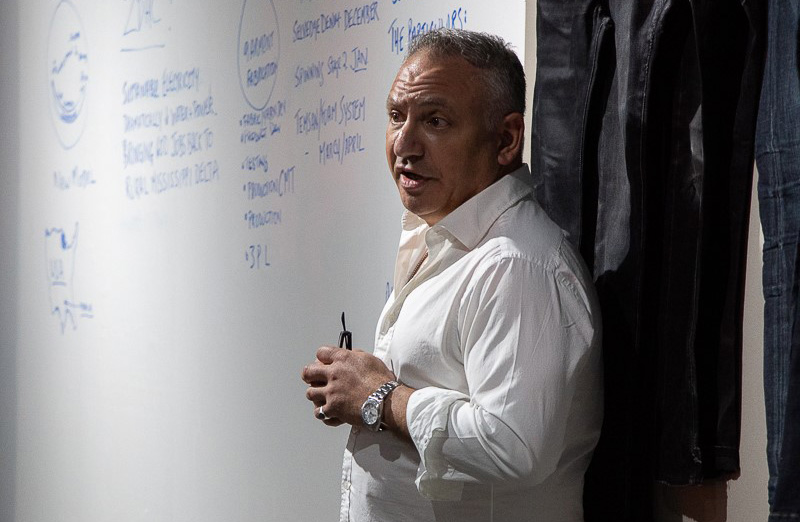 Dan Feibus, CEO at Vidalia Mills
New paradigm
Vidalia Mills will provide customers with traceability from the retail shelf all the way back to the farm where the cotton was grown. In an industry first, it will only use BASF's e3 sustainable cotton sourced from across the US farm belt and traceable from the farmer to the retailer.
"To get real transparency and accountability isn't easy, because of how the cotton comes from the field and into the plant. You literally have hundreds of gin points in the United States; mills buy from merchants who aggregate cotton from this massive 20m bale crop, and special orders so you get the right qualities, the right colour tendencies...it's not an easy job."
"It seems to me the biggest way to shrink a carbon footprint is to shrink a carbon footprint. So taking cotton, sending it to Italy to be made into fabric, sending that to China, sending that over to Asia, bringing it back to the United States...that seems to be chewing up a lot of miles" – Dan Feibus
Another pioneering move will see the mill become the first in North America – and the first in the world – to use a new and environmentally-friendly yarn dyeing technology for denim that uses foam instead of water and will result in significant water and energy savings.
On top of this, more than 50% of Vidalia's energy needs will be met by renewable resources, including the local hydro-dam; and the business is committed to zero waste-water discharge. It is also teaming up with The Lubrizol Corporation whose stretch fibres offer sustainable benefits such as processing at lower temperatures and recyclability.
Other manufacturing details have also been designed into the process that "result in better denim, better cost efficiency, and a better customer experience. It's something that we really want to instil, and we hope we create a ripple effect through the industry with what we do," says Feibus.
For example, the mill will have both open-end and ring spinning featuring air-conditioning systems from Turkish engineering group Temsan that use less energy and offer better quality. And as well as the selvedge looms, there will also be 40 "latest generation" Picanol rapier weaving machines.
The new plant will employ around 600 workers, and is currently preparing to ramp up its operations ahead of full commercial production by the second quarter of next year. Alongside this, facilities are also planned for fabric, yarn and product development, testing, cut make and trim production, laundry and third-party logistics (3PL).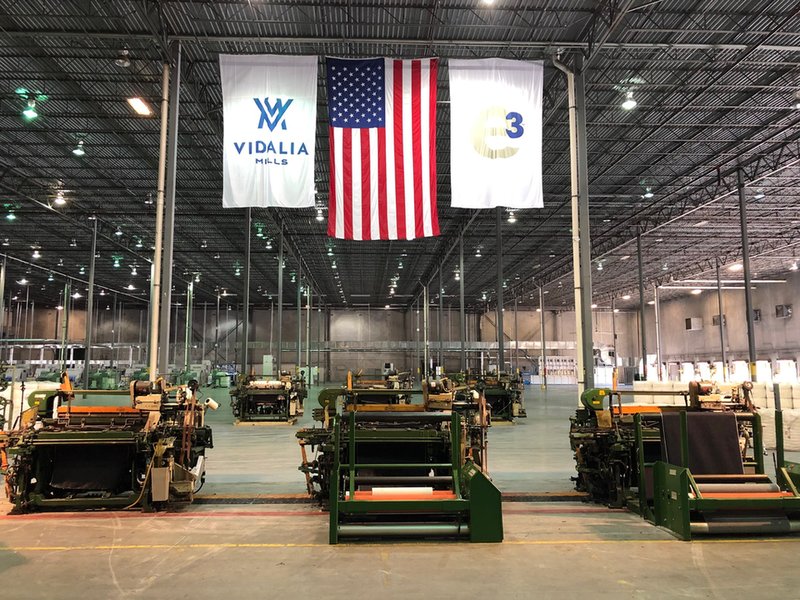 Vintage American Draper X3 shuttle looms in the new facility
Competitive advantage
The Vidalia Mills team believes its efficient cost structure and energy-saving technologies will make US-made denim an attractive sourcing option for brands and retailers.
There's also the benefit of speed-to-market (as opposed to Turkey, Italy or Japan), as well as having brand and design teams operating in the same time zone and language as their production partner. And at a time when trade turmoil is forcing many apparel firms to re-think their sourcing strategies, the onshore option means there are no concerns about tariffs or import costs.
"It's time to change what the denim industry means to the consumer, and not just with a gimmick but with a real traceable, transparent manufacturing chain," says Feibus.
Headline image: Vidalia Mills aims to be the go-to sustainable denim mill in the western hemisphere