Mark Burstein, president at NGC Software, which provides supply chain and PLM solutions to the apparel sector, notes that an intelligent factory relies on 'autonomous supply chains,' which are "the next step in the evolution of digital supply chains as artificial intelligence enters the mainstream."
He explains that such systems can analyse all types of data within the supply chain ecosystem: both internal, such as point-of sale, material inventory, work-in-process, and inbound shipments; and external, such as weather forecasts, social sentiment and market trends.
This value chain "can then automatically execute many supply chain decisions at the factory level, augmenting human intelligence to improve efficiency and reduce the concept-to-customer lifecycle."
Edward Hollyday, vice president of Black Swan Textiles, a digital consultancy for the apparel industry, stresses that "systems integration is a must for any intelligent apparel factory." This involves moving data between design, PLM, inventory, and shop floor machines/systems with real-time feedback for capacity, efficiency, and lead times.
"We have an opportunity to use technology – software and data – to extend the relationship that factories have with their suppliers and client partners," he explains. "This is true for both greenfield [new] and brownfield [existing] factories. Digitalisation provides a level playing field."
Step-by-step
Keith Fenner, managing director of Coats Digital, which provides software solutions to the clothing industry, adds that the first step in transforming an existing factory to an 'intelligent' factory is to standardise, digitise and centralise data collection.
"The second step is using this data to evolve and grow along with the changing needs of manufacturing by application of business process automation." This could be more predictive and responsive approaches to operations and maintenance, incorporation of new processes or technologies, or near-real-time changes to production.
Pete Santora, chief commercial officer at Softwear Automation, which creates autonomous sewn goods production lines using robotic solutions, says, ironically, that to create an effective intelligent factory, it is also essential for a firm to ensure that it has the right personnel: "Start with your people. People are the key to integrating technology into your ecosystem and guaranteeing success."
"Start with your people. People are the key to integrating technology into your ecosystem and guaranteeing success" - Pete Santora, Softwear Automation
He says manufacturers should ask themselves questions such as "Can my people do a wide range of operations?" or "Can my seamstresses also adjust the machines without the sewing mechanic?"
Rosemary Coates, executive director of the Reshoring Institute, a collaboration between the University of San Diego, California, and Blue Silk Consulting, which Coates founded, says a manufacturer should prioritise potential investments "starting with where the most labour can be extracted. Typically, this is the spot with the highest ROI [return on investment]."
She explains that a laser cutting table, for example, will significantly reduce the production time and ensure quality of the pattern cuts.
One example of a digital cutting solution is IntelloCut, part of Coats Digital. Fenner says this system helps manufacturers increase fabric utilisation during the cutting process by using artificial intelligence on a dataset of 1.3 million markers to generate the most ideal cutting plan for a style.
"IntelloCut uses tablet applications to take feedback on fabric consumption and wastage from the cutting room and subsequently re-plans fabric usage in real-time, automating fabric tracking and increasing fabric utilisation," he adds.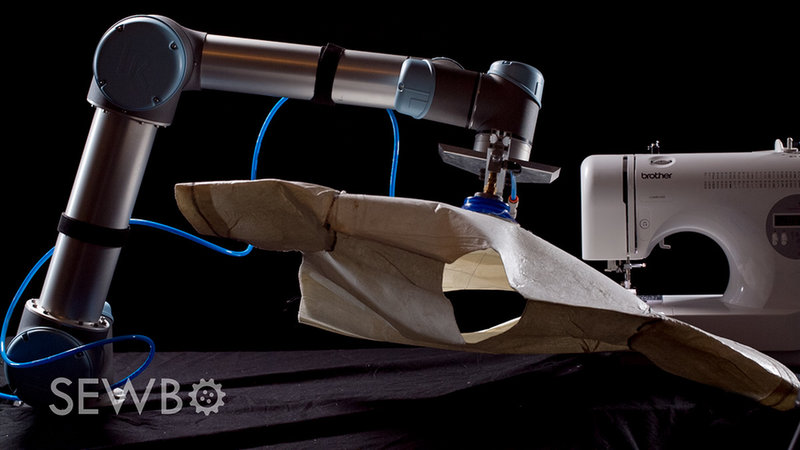 Sewbo temporarily stiffens fabrics, allowing off-the-shelf industrial robots to easily build garments from rigid cloth
Connected sewing machines
Sewing is another operation that can be transformed using Industry 4.0 technologies. For instance, software specialist PTC, together with Black Swan Textiles and Henderson Sewing Machine Co, have developed what they call a 'connected sewing machine.'
Here, legacy sewing machines of all makes, models and stitch types are connected to PTC's Intelligent Apparel Manufacturing (IAM), a new programme based around PTC's FlexPLM and ThingWorx Internet of Things (IoT) solutions that can send materials and production data through to machinery, which can help guide (human) operators.
Commenting on the value of such tech, Hollyday says: "The ability to provide two-way communication – regardless of machine manufacturer and stitch type – is a gateway to an intelligent process that automates the machine setup, operator instructions, and real-time data feedback." He adds: "Such a process provides digital continuous improvement."
Another innovation in sewing comes from US-based Sewbo, which claims to have created the world's first robotically-sewn garment. Jonathan Zornow, the company's founder, says that its technology resolves the difficulties robots have when trying to manipulate limp, flexible fabrics.
"Sewbo avoids these hurdles by temporarily stiffening fabrics, allowing off-the-shelf industrial robots to easily build garments from rigid cloth, just as if they were working with sheet metal."
Inspecting materials for defects is another advancement that can be offered by an intelligent factory. Fenner pointed to Inspectorio, whose quality and compliance platform, powered by artificial intelligence, uses mobile applications to collect factory data on defects. "It then uses machine learning for subsequent defect identification and prediction, better quality and efficiency," Fenner notes.
Coates concludes that "a combination of adopting new software and investing in new machinery, although expensive, can revitalise a business."
She adds that adopting an ERP software system to manage business operations, especially when integrated within an intelligent factory system, should be able to assist in managing inventory levels and provide better planning for working capital.
Headline image: Sewing machines of all makes, models and stitch types are connected to PTC's Intelligent Apparel Manufacturing (IAM) initiative