Retailers urged to act fast to engage sustainable shoppers
The overwhelming majority of UK consumers believe retailers should be acting sustainably – but that most are not doing enough to address issues around sustainability and climate change, according to leading data and analytics company GlobalData
Its latest UK Sustainability 2019 report also reveals that shoppers who are most likely to purchase more frequently are often more engaged with sustainability and ethics.
Of the consumers surveyed, 82.3% aged 16-24 agree that retailers should make an effort to source materials sustainably and ethically in clothing and footwear. However, these young individuals may also be the ones who are less able to make changes due to the often higher price points associated with sustainable and/or ethical products.
Indeed, 78.8% of consumers say it is hard to find affordable sustainable and/or ethical clothing and footwear products – so price is an important factor where many are not willing to compromise, and a barrier to making more sustainable choices.
"Retailers have tried to tap into demand for more sustainable items," explains GlobalData retail analyst Emily Salter. "However, fast fashion is inherently environmentally unsustainable. More sustainable and ethical options are growing in popularity, including dedicated retailers, slow fashion, and resale apps. Clothing retailers could capitalise upon this trend by launching rental services, as well as online second-hand marketplaces."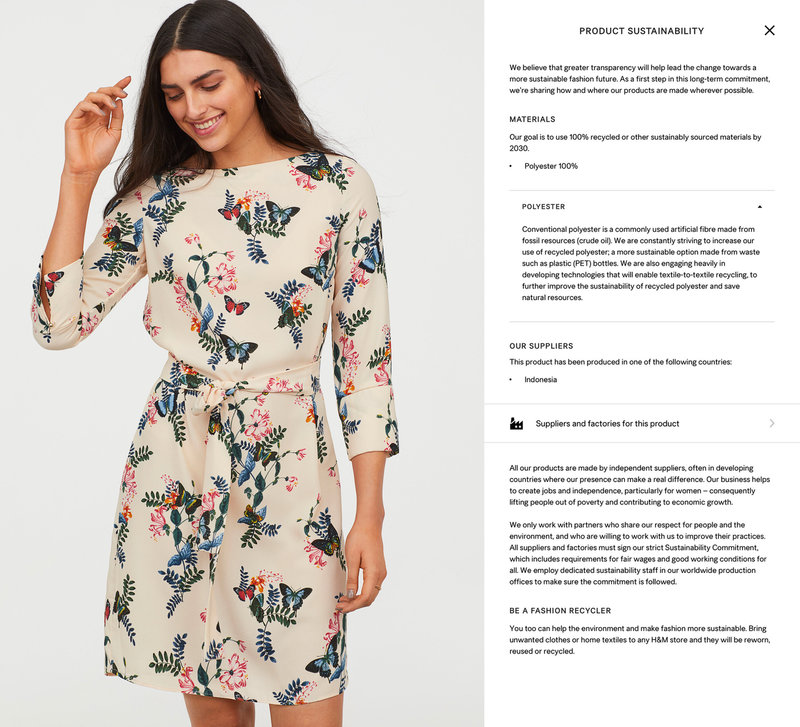 H&M discloses supplier information to online shoppers
Swedish fashion giant Hennes & Mauritz (H&M) is listing details such as production country, supplier and factory names and addresses for each of its garments sold in-store and online.
Shoppers on H&M's 47 local websites can also find out more about the materials used to make a specific garment. For instance, for products that are made with polyester, there is an explanation that it is made from fossil fuels, and that H&M plans to use 100% recycled or sustainably sourced materials by 2030.
Shoppers can also access this information in physical stores by using the H&M app to scan the price tag on a product to see its details.
"By being open and transparent about where our products are made we hope to set the bar for our industry and encourage customers to make more sustainable choices," says Isak Roth, head of sustainability at H&M. "With transparency comes responsibility, making transparency such an important factor to help create a more sustainable fashion industry."
Google pilot to measure fashion's environmental impact
Tech giant Google is to partner with British luxury fashion brand Stella McCartney on a pilot project that will collect and analyse supply chain data to measure the environmental impact of the fashion industry.
The move will initially see Google build a tool that uses data analytics and machine learning on Google Cloud to give brands a more comprehensive view into their supply chains, particularly at the level of raw material production – referred to in the industry as Tier 4 of the supply chain. It will be tested on cotton and viscose, each chosen due to the scale of their production, data availability and impact considerations.
The plan is to include data sources that allow companies to better measure the impact of their raw materials, relevant to key environmental factors such as air pollution, greenhouse gas emissions, land use and water scarcity. The goal is not only to be able to determine the impact of producing these raw materials, but also compare the impacts in different regions where they are produced.
New 'Fashion Futures 2030' scenario planning toolkit
A new interactive learning toolkit explores how current trends – from climate change to nationalism and artificial intelligence (AI) – could shape fashion in 2030.
Led by Forum for the Future and the Centre for Sustainable Fashion (CSF) at the London College of Fashion, with the support of C&A Foundation, 'Fashion Futures 2030' explores what fashion and nature might look like within four possible future world scenarios.
The aim is to help industry professionals and fashion educators identify risks and opportunities, stimulate new ideas, test business strategies for long-term resilience, and develop future-fit products and innovations.
The scenarios are: Living with Less – nature-based and globally connected; Hyper Hype – technology-paced and economically stimulated; Safety Race – regionally located and culturally fragmented; Chaos Embrace – people-centred and governance re-invented.
Manifesto calls for European vision on circular fashion
Five leading apparel organisations have teamed up to urge existing and forthcoming EU policymakers to rethink tools to establish a circular fashion system.
Their new manifesto calls for collaboration between industry and regulators to move the industry away from its traditional linear take-make-dispose model and instead enact impactful circular solutions.
It tackles circularity in three ways.
First, it contends that closing the loop requires unprecedented collaboration to combat fashion waste and to guarantee that business models are fully circular, with no broken links.
Second, it declares that a new approach must be adopted across the industry by utilising technological innovations in solutions such as separating fibres for reuse and upcycling.
Third, the manifesto demands more groundbreaking policy measures tailored to the needs of a diverse range of businesses – from SMEs to multinationals – and smart regulations to nudge consumers to rethink the way they use and dispose of their garments.
The groups involved are the European Apparel and Textile Confederation (Euratex), the Federation of the European Sporting Goods Industry (FESI), Global Fashion Agenda (GFA), the International Apparel Federation (IAF), and the Sustainable Apparel Coalition (SAC).