&Wider has created a cloud-based platform that uses workers' mobile phones to track and encourage improvement in labour practices along the supply chain. Its tools offer real-time results and can also be used to support particular suppliers, as well as provide an early warning system when used across the supply base.
Ananas Anam is the company behind Piñatex, a natural leather alternative made from cellulose fibres extracted from pineapple leaves. The leaves are discarded from the pineapple harvest, so the raw material requires no additional environmental resources to produce. The fibres undergo an industrial process to become a non-woven mesh, which forms the base of Piñatex.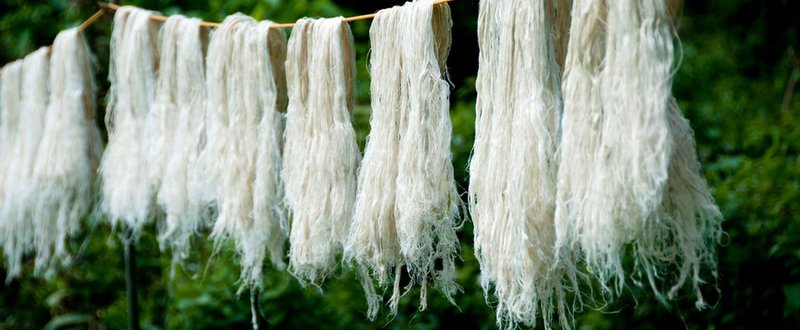 Piñatex is a natural leather alternative made from cellulose fibres extracted from pineapple leaves
Algalife is developing innovative natural dye pigments and fibres from algae. Its bio-based products have a better environmental footprint than traditional manufacturing and dyeing processes, the company says, while the algae release proteins, vitamins, anti-inflammatory and antioxidant properties onto the body and skin.
Checkerspot is a biotech startup that combines bioengineering, chemistry, and materials science to design – at a molecular level – new materials. The company is using microbes found in nature to produce triglycerides, also known as oils, with unique properties. These can then be manufactured at a large scale in a fermentation based system to form the basis of new high performance polyurethanes and coatings.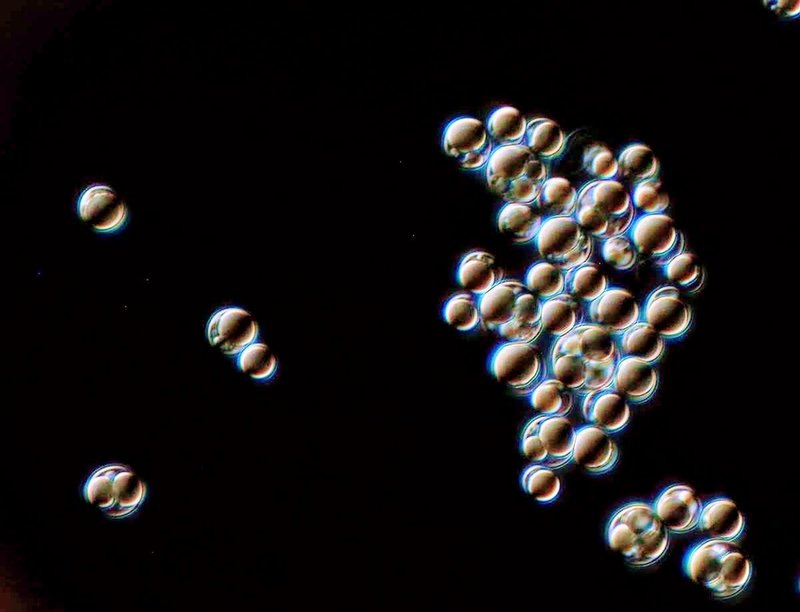 Dimpora has invented a novel waterproof fluorine-free membrane material. Current waterproof membranes use toxic chemicals that bioaccumulate in the natural environment. Dimpora's material is free of such chemicals but still delivers breathable and high-performing membranes. Its 2D product can be conventionally laminated onto a fabric; while its 3D product is a new approach that directly coats the membrane onto an already assembled jacket. A fully biodegradable and waterproof membrane is under develo pment.
FarFarm is developing responsible fabrics using agroforestry systems that regenerate nature and communities in Brazil. It educates agricultural families to plant natural fibres such as cotton, jute, ramie and dye-producing plants using agroforestry principles that mimic nature, don't require chemical fertilisers, all while restoring biodiversity and keeping a standing forest.
FastFeetGrinded is seeking to make footwear circular by collecting and recycling used shoes into new shoes. Working with retailers, it collects used shoes that are then sorted, deconstructed into their component parts, and pulverised into a granulate raw material. These material streams are manufactured into new products like playground flooring but also feed back into the footwear manufacturing supply chain.
Green Whisper creates sustainable products for daily use out of agriculture residue – and specialises in banana fibre products including banana fibre textiles. Its products give a valuable second life to agriculture residue, helping to avoid environmental impacts from raw material use. They are also 100% biodegradable and compostable.
Indidye has developed a low environmental footprint dyeing method for its natural plant-based dyes. This new process uses sound waves to bind natural dyes to cellulosic fibres. Indidye's technology uses less water, creates no wastewater, is biodegradable, and requires less energy than a conventional dyeing process. Indidye also produces a dyestuff and is developing a cellulosic fibre – both of which are 100% biodegradable.

Indigo Mills Designs is improving the indigo dyeing process by making it more sustainable, more economical and faster. Its patented state-of-the-art foam dyeing process produces zero water discharge and minimal dye waste, along with deep indigo colours.
Mango Materials produces a biodegradable bio-polymer from waste biogas (methane) that can be used as a sustainable alternative to polyester. Microfibres produced from the bio-polyester can biodegrade in many environments, including landfills, wastewater treatment plants and the oceans, helping to prevent microfibre pollution and contributing to a closed-loop bio-economy for the fashion industry. The circular technology benefits the environment throughout its entire process from renewable feedstock sourcing to carbon recycling at the end of a product's life.
MonoChain is a retail blockchain startup that has developed an easy to integrate blockchain platform to bring primary and resale markets together to enable a circular economy and simultaneously combat fake products. MonoChain facilitates the reuse of fashion items and helps brands to generate new revenue streams by connecting them to the resale market.
Nature Coatings transforms agricultural waste into high performing black pigments for printing, coatings, paint, ink and dope dyeing. The pigments are a bio-based replacement for the millions of tons of petroleum-based carbon black pigment produced globally each year – and therefore have the potential to prevent millions of tons of CO2 from entering the atmosphere. The pigments are said to be higher performing than petroleum carbon black and can be used at the mill with existing equipment, making adoption easy and efficient.
PondTextile has developed a 100% plant based, biodegradable resin, made to replace petroleum-derived polyester fibre. The material is obtained from plant starch with the possibility for feedstock to be sourced from waste streams. PondTextile can serve as a glue/binder material or can be extruded as a fibre.
Pure Waste Textiles produces ecologically sustainable and premium quality recycled fabrics and yarns. It takes offcuts and spinning waste from factories in India and mechanically recycles them into yarns. The products are entirely made of recycled textile waste, sometimes combined with recycled polyester or viscose, and offer the consumer the same quality and comfort as those made out of virgin materials.
Regain app has created a multi-brand takeback programme that rewards recycling. Consumers can box up their unwanted clothing and ship it directly to Regain and earn discount coupons to use online or in store. This helps combat the textile waste epidemic by preventing tons of unwanted clothing from going to landfill.
Sonovia (previously Nano Textile) offers a sustainable alternative to binder chemicals normally used to attach finishes onto a fabric. Its technology embeds fabric finishes using a process called cavitation and can apply to a range of products such as antibacterial and anti-odour finishes or water repellency. The elimination of binders reduces the amount of chemicals used in the finishing process, while its strong impregnation helps prevent the leaking of hazardous chemicals.
TrusTrace is a blockchain powered collaboration platform that helps establish transparency and product traceability between various stakeholders in the fashion industry. It can be used to measure, monitor and communicate various activities in the supply chain, from the origin of the raw material to consumption and recycling, as well as assess the sustainability footprint at each stage of the value chain. For brands it can help identify hot-spots and reduce supply chain risks; while for suppliers it can automate data management for compliance and certifications.
VeChain is a product management platform that uses blockchain and smart tag (NFC/RFID/QR Code) technology to allow retail products to be traced across their entire lifecycle. Using blockchain enables retailers and manufacturers to easily collect, manage, and share product data across the supply chain all the way to the end consumer. Tagging systems connect physical products with the digital world, facilitating transparency.
Vienna Textile Lab fabricates organic dyes from naturally occurring bacteria in order to provide a sustainable and environmentally friendly alternative to conventional synthetic colours. The process is resource-efficient and emits less carbon than traditional dyes.